ZoomInfo is a popular business directory and data provider that compiles information about individuals and companies. While it's a valuable tool for business professionals, you may find personal or professional details on the platform that you'd prefer not be so publicly accessible. Whether you're concerned about privacy or outdated information, here's a step-by-step guide on how to remove your information from ZoomInfo.
What Is A ZoomInfo And For Which Purpose It's Used For?
ZoomInfo is a platform that specializes in providing users with access to an extensive collection of information pertaining to business people and corporations. Previously established in the year 2000 by Yonatan Stern and Michel Decary, the business was previously known as Eliyon Technologies. It has developed into one of the most extensive business-to-business (B2B) contact databases during the course of its existence.
It is a B2B data provider that is mainly used for lead generation by marketing, sales and recruitment professionals. The website offers a variety of services, including digital advertising, tracking website visitors, sales automation, and contact and corporate searches.
Why Do You Want To Remove Info From ZoomInfo?
There are several reasons why you want to remove info from ZoonInfo, this include:
Privacy Worries

: Protecting your personal and professional information is essential in today's increasingly digital world.

Relatively Old Information:

There's a chance that ZoomInfo still has outdated information on your professional life.

Branding Yourself

: Make sure the information that is public is correct and enhances your professional image.
How Did ZoomInfo Get My Information?
ZoomInfo obtains personal information from a variety of resources, including but not limited to websites and public records, consumer contributions, third-party data suppliers, and telephone interviews. Since data from several sources may be integrated into a single record, pinpointing the original source of any given data point may be challenging, if not impossible.
What Are The Steps To Opt Out From ZoomInfo?
If you want to delete your information from ZoomInfo you have to go to their website and then send a request to opt-out of your data. Here are the steps which you need to follow:
Go to ZoomInfo official website.
Scroll down the page and click on the privacy center.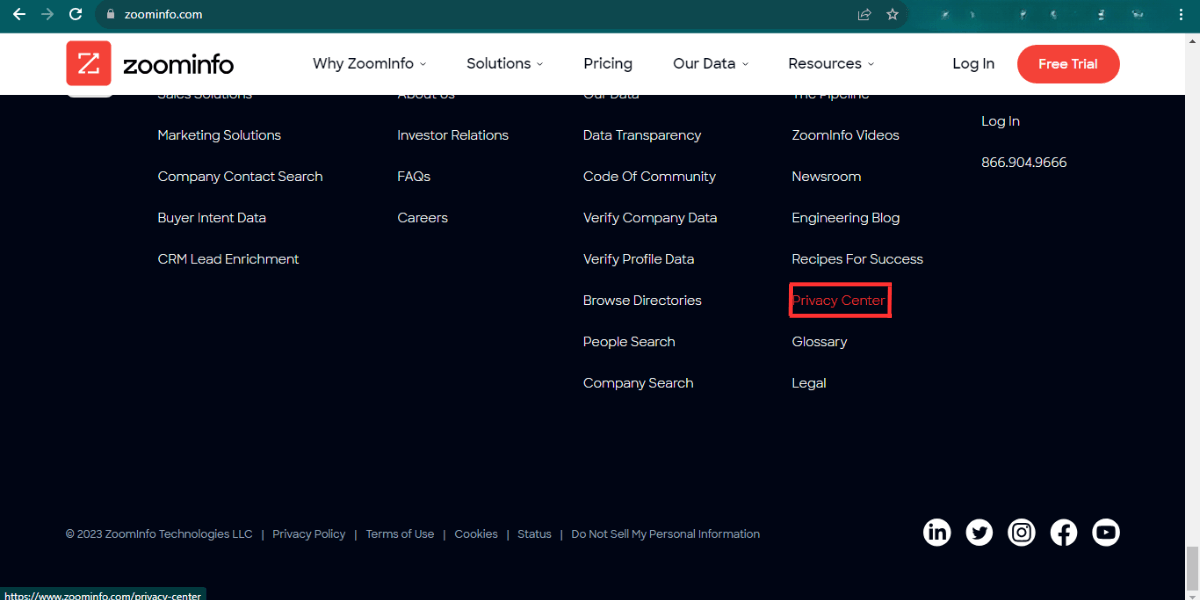 Then click on the "manage your profile" link.
Now scroll down the page to the "Request Removal/Deletion from ZoomInfo (Opt-Out of Sale)" and then click on the "request removal" link.
A new window will appear, enter your gmail address and click on the "get code" button.
Check your gmail account, open notification received from ZoomInfo and copy the code. 

Now paste the code and click on the "confirm" button. 
On a new window fill up the form and click on remove button. 
Lastly, ZoomInfo notify you "your removal request has been verified" and then click on the exit button
Note: it will take almost 2 to 3 days to complete your request. Wait shortly and check gmail for removal. 
You can also take services of reputable sites such as SaveRepute.com. It promised several clients to achieve their lost image and be successful in this regard. You can also take the Search suppression service of SaveRepute to enjoy online reputation. If you want to remove information from other sites like BeenVerfied, USPhoneBook then you can also contact SaveRepute. 
What Are The Benefits Of Cleaning Your Online Footprint?
To "clean your online footprint," you should monitor and reduce the amount of private information about yourself that is accessible via search engines and other online resources. Listed below are the key advantages:
Enhanced Privacy:

Reduces the risk of personal data being misused or falling into the wrong hands.

Reduced Risk of Identity Theft:

Fewer personal details available online means fewer opportunities for identity thieves to piece together your information.

Professional Reputation:

Ensures that outdated or unflattering information doesn't come up in professional or job-related searches.

Control Over Personal Narrative:

Allows you to dictate how you're perceived online by controlling which details are accessible.

Protection Against Cyberstalking:

Reducing public personal details can decrease the risk of being stalked or harassed online.

Maintaining Current Relationships:

By managing your online presence, you can prevent misunderstandings or conflicts with current friends, colleagues, or partners based on old or misleading information found online.
Conclusion
Removing information from any data broker site is essential because this information can cause serious impacts on your current brand image. Follow these step by step guide to remove your personal record from such site and secure your digital identity.