Fastpeoplesearch is the most popular online search engine with an extensive user database. It collects and saves user information from public resources, which are freely available to everyone. Most online brands' or individuals' online reputations are affected by such sites. 
But how do you protect your information from unauthorized people if you find your data freely available online? To delete your data permanently from such sites, you may be curious about "how to remove info from fastpeoplesearch?" 
In this blog post, I'll guide you on what's fastpeoplesearch, how they got your personal information, and also show you steps with images to remove your information from fastpeoplesearch. 
What Is A Fastpeoplesearch?
Fastpeoplesearch is a people search engine that compiles information about individuals by accessing various public resources and databases. It uses specialized algorithms to save user data such as name, contact number, email address, and address into its database. This data may also include public records. The data is made public after the information has been saved, and anyone can view it. 
How Fastpeoplesearch Got Your Information?
This is the most popping-up question on the internet. People are curious how fastpeoplesearch got for information they didn't add. It finds your personal information from four public resources to answer this question. 
Firstly, it collects your personal information from public records such as property, marriage licenses, and court records.  

Second, it finds your information from online directories such as business listings and Listing Management, phone, and professional records. 

Third, it gets information from third-party apps and browser cookies. 

Lastly, it collects your information from social media platforms like Facebook, Twitter, Linked, and Instagram. It also gets data from aggregates and data brokers.
It's important to note that this online platform heavily relies on publicly available data and does not create its information.
How Do You Determine If Fastpeoplesearch Has Your Information?
Before starting the removal process, it's necessary to ensure that your information is available on-site. To check this, enter your name and city, and click the "free search" button. It'll suggest you some user's data, you have to inquire whether it's your data or not. If you find your information, go ahead with the removal process by following the steps below.
How Do You Remove Info From Fastpeoplesearch?
If you find your personal information on fastpeoplesearch. Then you can also remove them from the removal portal or pursue the steps given below:
1) Go to www.fastpeoplesearch.com's official site.
2) Scroll down the page to the end and click "Do not sell my personal information".
3) Next, a new tab will open, enter your email address, and click the "begin removal process" button. Also, check the checkbox.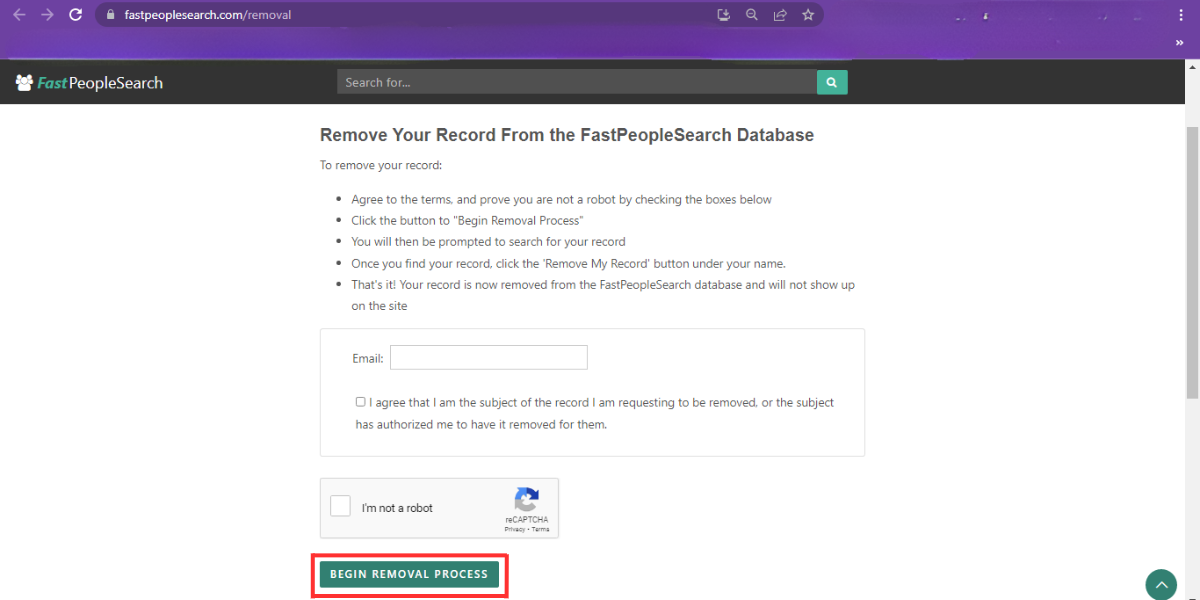 4) You can search data via name, contact number, and address. I search via name, enter name and city, and click the "free search" button.
5) It will show you 3 to 4 or more users' data, find yours and click on the "view free details" button.
6) A new tab will open and click on the "remove my record" button. 
7) Fastpeoplesearch informs you about "record removal request email verification". It means the link will expire within 24 hours. 
8)Login to your Gmail account and click on the notification received by fastpeoplesearch. 
Open the notification and click on the "click here to remove XYZ person".
9) Lastly, a new window will open, and click on the "remove my data from other public records websites". And somebody will remove your data.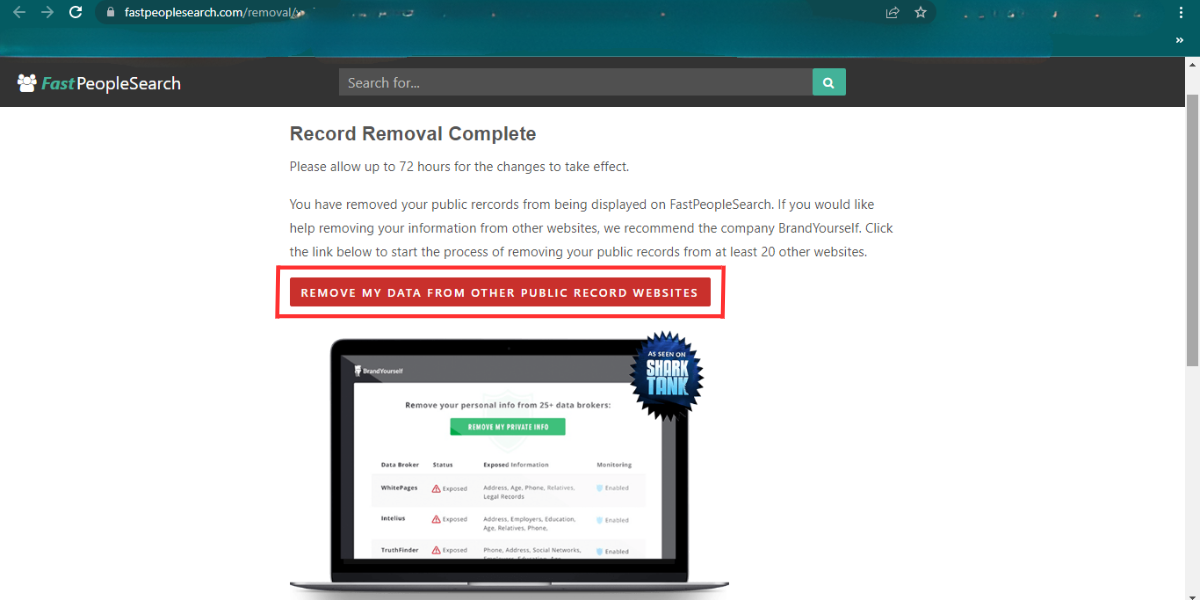 You may be interested in reading: How to Write Reputation Management Proposal
How Do You Identify That Your Information Is Deleted Permanently? 
After you submitted your request to fastpeoplesearch to remove your information. It's crucial to check whether your information has been deleted or not. Because it doesn't delete your data in real time. To identify if your information has been removed, follow these steps. 
Wait for a specific time whether they deleted your information or not. If yes, it's good; if not, contact their team. 

Continually check whether your information is still present on their site or not. By entering your information with different variations.

You can also prevent search engine results such as Google, Yahoo, and Bingo with relevant keywords. It'll help you to check whether your information is still indexed on search results. 

If you go through all the processes and still find your information on search engines, you can contact the fastpeoplesearch team. 
Additional Privacy Measures To Consider
As you submit a request to Fastpeoplesearch to remove your personal information. It's crucial for you to check your privacy settings on several online platforms. Like Facebook, LinkedIn, Twitter, and others. You should limit your personal information settings so that your information is not publically available to everyone. It's also important to update your password once a week. Additionally, you can explore other security tools to protect your online presence.  
Sum up
How to remove info from fastpeoplesearch is crucial to protect your online reputation. Following the above step-wise guide, you can delete your personal information from the platform. Every organization's or individual agenda is to take control of your online presence and protect your personal information from unauthorized access. In addition, you can take our services to grow your brand performance and Boost online reputation.