Your online reputation has a huge impact on your personal and professional life. But what happens if your arrest record haunts a popular site like ArrestFact? A website where anybody can access your data freely. You may worry about your reputation at this time. But don't panic; we are here to help you with it. 
In this blog post, I'll share some quick steps from where you can remove information from the ArrestFact website. I'll give you the power to reclaim your online presence. So, stay engaged and read this blog until the end.
What Is An ArrestFact.Com?
The arrestfacts.com website provides the public with access to a wide range of real criminal, civil, police, and court records from all authorities in America. ArrestFact collects and aggregates data from various sources, making it easily accessible to the public. The website aims to provide transparency and facilitate access to public arrest records for informational purposes. 
However, the availability of arrest information on ArrestFact can potentially impact a person's reputation, as anyone with an internet connection can view it.
How Do I Remove Information From Arrestfact.Com?
If you're looking to remove information from ArrestFact.com, there are a few steps you can take. Here's a potential approach. 
STEP 1: Proceed to the ArrestFact.com site.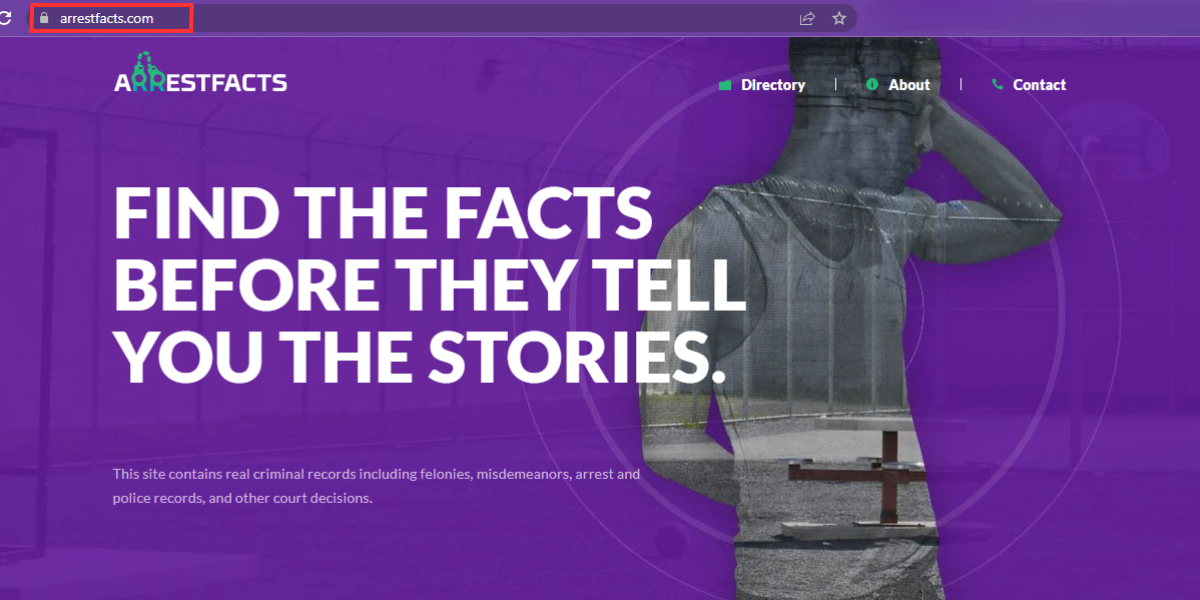 STEP 2: Enter your state (city), first name, and last name, and click the search button.
STEP 3: Next, if your record is found, click the "view more" option. 
STEP 4: A new tab will open; click the "information control link" beneath the picture.
STEP 5: Now provide your name and email address, accept the captcha, and click the "send" button.
STEP 6: Check your Gmail account, and you'll receive a notification from ArrestFact. Please open it, copy the removal URL, and paste it into a new tab.
STEP 7: It'll show you that your opt-out request was submitted successfully.  
How To Remove Arrest Records From ArrestFact In Google?
As you remove information from ArrestFact, it'll remove it from its database, not the overall search engine. If you want to remove information from Google, too, then follow these steps. 
Verify that your record still displays on Google search results after submitting a request to ArrestFact.com. If you conduct research, then go for the Google removal request page. 
Submit a Google removal request

.
Google offers a process to request the removal of specific URLs from its search results. For this, visit Google's "Remove Outdated Content" page (search for it in Google) and follow their instructions to submit a removal request. Provide the URLs of the ArrestFact pages containing your arrest records and explain the reason why you want to remove this page.
Monitor the removal progress. 
Save the URL of your record that you find on Google(instead of searching again and again on Google). Because both ArrestFact and Google take time to remove the record. Additionally, monitor Google search results to ensure the removed pages are no longer appearing.
Seek legal advice if necessary. 
If you encounter difficulties or believe your case requires further action, consult with an attorney experienced in online reputation management or privacy law. They can provide personalized guidance and explore any additional legal avenues available to you.
You might want to read: How to Remove Information from Unicourt
What Are Other Alternative Approaches For Information Removal?
There are other alternative approaches too that you can use for the removal process. Online reputation management services can assist in navigating the complexities of removing arrest information from ArrestFact. These professionals possess expertise in the field and can offer valuable guidance and support. Additionally, proactive measures such as creating positive online content, engaging in community involvement, and building a strong personal brand can help mitigate the impact of arrest records.
Conclusion 
There's no reason to live in the shadow of your past mistakes. With this comprehensive guide, you possess the knowledge to remove that tarnished ArrestFact record and reclaim your online reputation. Unlock a brighter future where your true potential shines through. It's time to embark on your journey to online redemption. The power is in your hands—seize it!
If you want to remove your arrest record, contact us and book a free consultation with one of our reputation advisors.