Are you worried about protecting your online reputation from websites such as UniCourt? Do you want to remove your personal information from UniCourt and control your privacy? If so, you landed at the right place. 
UniCourt has its own database where it stores user court records that are legal and authentic. However, this data is not protected by UniCourt. Anybody can steal your personal information and use it for illegal purposes. 
Why Removing Your Personal Information From Unicourt Is Crucial?
UniCourt is a legal record search engine that holds millions of records in its database. They collect records from both online and offline resources. It's important to remove your information from such databases so that you can protect your reputation Management. However, there are other compelling reasons too, to remove your data. These are given below:
It may leak your personal information that must be private. So, it's crucial to protect your private information. 

When you remove harmful or inappropriate information, this impact on your online and offline reputation.

When your data is available on such a site the chances of scams, fraud, and other malicious activities are increased. So, it's important to remove them on time. 

Court records and other documents contain more personal information too, which is necessary to keep it confidential. So, removing such information means no one can access it. 

When you remove your data from UniCourt you regain your privacy and control in the digital realm.
You may be interested in reading: How to Remove Info From FastPeopleSearch
How Do I Remove My Personal Information From UniCourt?
To remove your private data from the UniCourt database, pursue these steps. 
1) Go to the official website of UniCourt.
2) Next, enter your name or you can enter the case name and click on the search button. If your data is available you need to go ahead for removing it.
3) Click on your appropriate record and open in it new window. Here copy the URL of your case.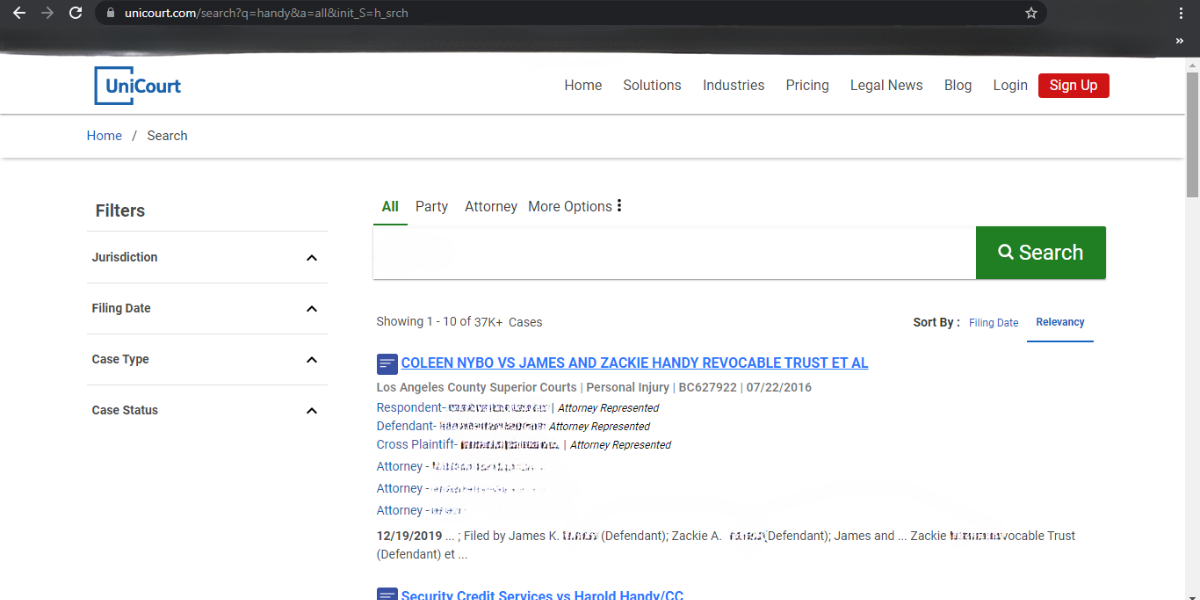 4) Go to the removal page of UniCourt. Follow this link https://unicourt.com/case/removeRecord to directly jump to remove the record page. 
5) Fill up the form and click on the check box. After that click on submit request button. 
UniCourt support will review your request and respond to you within 72 hours. 

It then asks its partner sites to protect your data, not show it online. However, there are other websites too, that contain such information. You need to remove your data officially with the help of data brokers' sites.
How Can You Find Out If Your Record Has Been Removed?
If you are unsure whether your record has been removed from the UniCourt record, follow these steps. 
Confirm with UniCourt's customer support.

Search your name or case details on UniCourt's website.

Monitor external search results on popular search engines.

Stay vigilant and periodically check for any reappearance of your record.

Consult legal professionals for guidance if needed.
Conclusion
UniCourt contains court records of several users in its database which is freely available to anyone.  It can hurt your online reputation and also it becomes difficult for you to regain your reputation, once it's ruined. 
Do you want to remove your information from UniCourt, and protect your online presence? Then, follow the above guideline to quickly remove your record. 
FAQs:
How UniCourt gather your information? 
It collects your information from state and federal levels and displays it in one place. The data is available on UniCourt for free, so most users can access it easily.
How to remove UniCourt records from Google search results?
UniCourt records appear in Google search results via indexing. When the user removes data from UniCourt search results. Google takes some time in identifying that URL is not valid. Also you can try the Serp Supression Services for Removing your Unicourt Record from Google Search Results.