Yelp is a famous review website and mobile app where customers have the liberty to leave their reviews and rating while experiencing the same business. With the help of Yelp, it has become easier for businesses to professionally manage their brand image and need to know what ins and outs it requires. As this factor directly makes or breaks a company or business's growth and success. When you go through this article you come across how much reputation management Yelp reviews are important. Most importantly, you'll learn which strategies you can adopt to enhance your reputation on Yelp. So, stay tuned! 
Why Do Yelp Reviews Matter A Lot?
Reputation is important for every business either small or large. Every business cares about its reputation. In today's era, everyone is connected online and shares their reviews on a particular resource. Yelp is a platform where it provides access to customers to discover, review, manage, and engage with local businesses. These reviews greatly influence consumers' behavior which makes it essential to build the customer's perceptions.
With the help of positive reviews, businesses can build trust, attract new customers and improve online visibility for your business. You can establish customer, consumer, and client credibility and gain an advantage by actively engaging with reviews. Furthermore, valuable customer feedback on Yelp helps businesses to refine their products and services.  
By understanding the importance of Yelp's reputation management, businesses can influence opinions, improve visibility, build trust, and ultimately thrive online.
How Does A Business Get Yelp Reviews?
You can't ask your potential customers to give you reviews on Yelp – as it sounds odd. To get reviews on Yelp you need to give your clients the best experience with your products and services so that they leave a response on Yelp itself. Here's how your potential clients and customers enjoy the best experiences of yours.
Ensure that your business information is upgraded. If you think there is any small information that needs to be updated on your business profile, do it right now. Never leave your information incomplete.  It'll leave a bad impression on your audience and you may suffer from a bad image. Additionally, online reviews influence the sale of a business.
Provide An Outstanding Customer Experience
Through your website, make sure to deliver exceptional customer service and experience. The more smooth the customer experience you deliver the more positive reviews you'll get. When a customer gets a positive response from you, they will most likely leave a satisfied review. 
Run an email marketing campaign to familiarize your offers with your customers. Ask them to give a review of your website on Yelp by providing a link to your Yelp review page. It will enhance their trust and credibility towards your business. 
Engage On Social Media To Share Reviews
Social media is a great source to increase engagement with your audience. You can use social media management to share Yelp reviews to provide awareness of the Yelp review page of your site. It will boost them to provide a review on a more authentic and popular website.
Add A Yelp Badge On Your Website
To enhance your Yelp page awareness you can add a badge of it on your website and also on your social media channels. You can utilize your website by adding social media icons and providing links to them. This becomes easier for them to find you on social media. 
Include A Review Request On Receipt
You can print a simple receipt saying thank you and ask them to leave a review on Yelp. Make sure to provide engagement on your receipt by saying your feedback is valuable to us. 
This has two meanings. As you ask your potential customers to leave a comment, it's vital for you to do so. On the other hand, as a Yelp review handler, you should respond actively to reviews, so that you get to know what people are saying about services and products. 
Use Yelp To Request A Review Feature
As a Yelp review handler, you can use the "request a review" feature to ask customers to leave a review on your page. You can send requests to those customers who recently visited your business page. 
Best Strategies For Enhancing Your Business Reputation On Yelp
If you didn't hire a professional reputational manager for managing your reviews then apply these expert strategies to boost business performance. But before doing it on Yelp, you should register your business. It'll give authority to the website that your site is legal. Here are some strategies you should consider to enhance your business value on Yelp: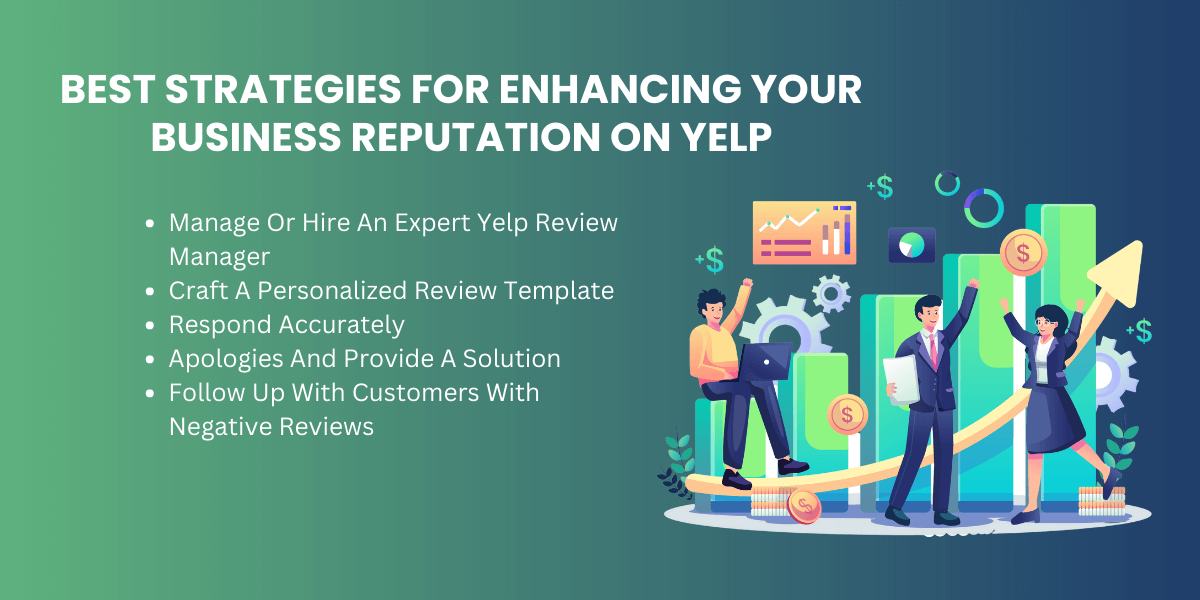 Manage Or Hire An Expert Yelp Review Manager
As a business owner, you should respond to reviews by yourself. But if you don't know how to use it, you can share this responsibility with potential employees in your team. Otherwise, you can hire a professional Yelp review manager. 
Craft A Personalized Review Template
To maintain consistency on your business page, you can craft a responsive review template. On this template, gather up all the similar questions and respond to them through a single click but make sure to change your words a little bit to avoid sounding monotonous on your review page. 
Most consumers think in this way that they will get a response within 24 to 48 hours. This way you show your concern, care, and responsibility to your consumers. It shows that you care about their sentiments and always be there for you to resolve your issues.
Apologies And Provide A Solution
There is some situation in which you don't actively respond to your consumers. This way they feel that you don't care about their sentiments. Apologies to them for your late response. Additionally, if some customers give you negative feedback, you can apologize to them and you can provide them with the best solution ever. 
Follow Up With Customers With Negative Reviews
When you provide the best solution to those customers who give a negative response, follow them too. This will help you get to know whether they still give you negative feedback and provide them with a solution. You can collaborate with them to convert your negative reviews to positive ones. 
Can You Remove Yelp Reviews?
You can't directly remove Yelp reviews by yourself. There are some specific rules assigned by Yelp community guidelines that you must follow. It says you can remove reviews if you fall under these three conditions.
First, if the reviewer wants to push up other competitors instead of you. 
Secondly, if the reviewer doesn't share their own experience. 
Thirdly, if the reviewer uses harsh language and leaks personal information of an employee or guest. 
Wrapping Up
Managing your online reputation is crucial for your business growth. Once you know how to manage your reviews on the Yelp site, your reputation definitely rises with positive reviews, due to the site's higher popularity. You can run a successful campaign to ask your customers to leave a positive response for your business's success. If you want to know how to get positive reviews on Yelp then follow our expert guide.
You can hire a professional review manager to manage your business review page on Yelp. Contact us to engage with our services.