Online reputation management is crucial for each business. In this digital landscape, people now prefer online buying and selling. They connect with brands through eCommerce stores to purchase any product. But before buying, they check out reviews of that specific brand, and after that, they make a purchasing decision. It's important for eCommerce stores to gain the trust of their customers to generate more organic results and revenue. 
That's why eCommerce reputation management is essential to maintaining a competitive edge. Let's explore what strategies they adopt to maintain their reputation in the long run.
What Strategies Do E-Commerce Stores Use To Build A Strong Reputation?
Each e-commerce store builds strategies based on its current reputation. But here are the best-practicing strategies that any eCommerce store can adopt: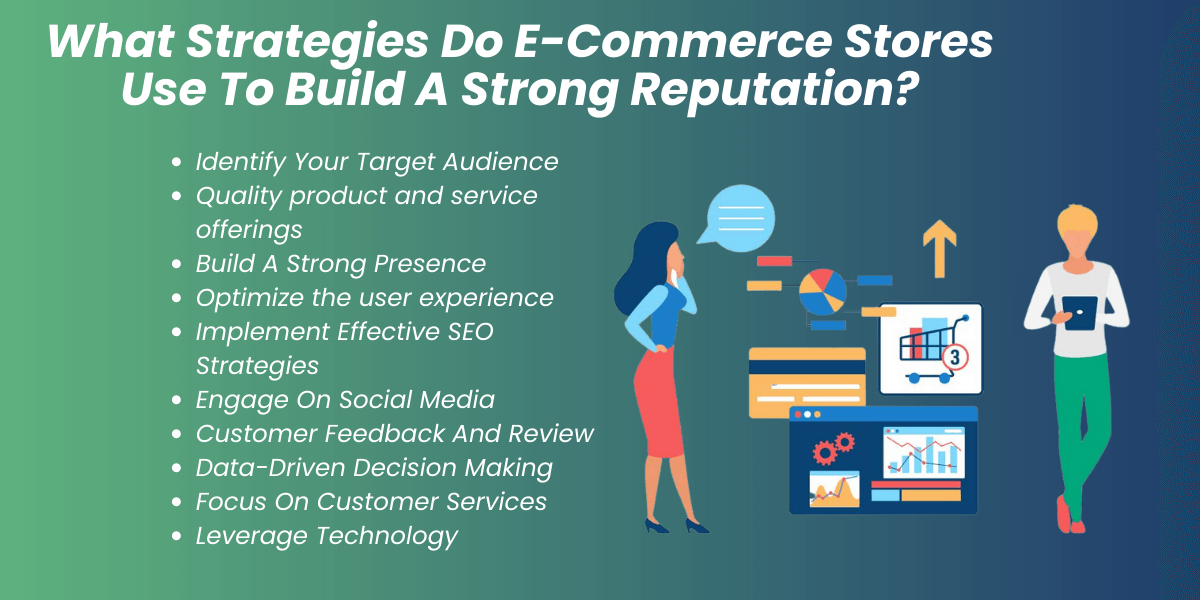 Identify Your Target Audience
Understand who your customers are—their demographics, interests, and shopping habits. Tailor your marketing, customer service, and products to meet their specific needs.
Quality product and service offerings
Ensure the products or services you offer are of high quality. This not only attracts customers but also promotes positive reviews and word-of-mouth recommendations.
Your brand image is crucial not only for you but also for your trusted clients. You should develop a unique brand image that differentiates you from your competitors. Having a unique identity means having a distinctive logo, a consistent visual aesthetic, and compelling messaging that communicates your brand's values.
Optimise the user experience.
The website gains its value when it provides an easy-to-go or user-friendly website. Having a user-experience website includes intuitive navigation, Fast Load Times, and a seamless Checkout Process. An Enjoyable Shopping Experience Encourages Repeat Customers.
Implement Effective SEO Strategies
Use search engine optimisation (SEO) techniques to improve your website's visibility on search engines. This can involve using relevant keywords, optimising product descriptions, and improving site speed.
Use social media platforms to engage with your audience, build relationships, and promote your products. Regularly share interesting content, respond to comments and messages With Effective Management of Social Media can foster a community around your brand.
Customer Feedback And Review
You should encourage customer reviews and feedback. You should behave in a positive manner and actively respond to both positive and negative reviews. Positive reviews can enhance your brand's online reputation and build trust with potential customers. Constructively address negative feedback to show your commitment to customer satisfaction.
Data Driven Decision Making
Regularly analyse your sales data, website traffic, and customer behaviour to understand what's working and what's not. Use this information to make informed decisions and continuously improve.
Focus On Customer Services
Exceptional customer service can set you apart from your competitors. This includes providing clear communication, quick response times, easy returns, and going above and beyond to meet customer needs.
Use the latest technology to improve your operations, whether it's AI for customer service, big data for personalised marketing, or automation for efficient logistics.
Additional Tips For Building Your E-Commerce Store's Online Reputation
Online business relies heavily on reputation. In the current digital era, consumers place a lot of weight on online reviews and ratings when deciding what to buy. Therefore, for e-commerce stores, having a good online reputation is essential. Owners of online shops can use the following advice to enhance, repair, and grow their online reputations:
Monitor and respond to customer reviews
An eCommerce store's reputation significantly hinges on customer reviews. It's crucial to monitor and reply to all reviews. Express gratitude for positive feedback and address negative remarks swiftly and professionally.
Create a Strong Brand
Improving your online reputation is supported by creating a strong brand with consistent messaging and core values, which cultivates customer trust and credibility.
Customer service is important
Superior customer service, delivered via responsive teams and multiple contact channels, boosts the online reputation of eCommerce businesses.
Create a strong social media presence
For engaging customers and raising brand awareness, it is essential to have a strong social media presence that displays active profiles and prompts interactions on websites like Facebook, Twitter, and Instagram.
Provide high-quality products and services: 
By offering top-notch goods and services, one can develop a positive online reputation. Make sure your products are suitably described, meet customer expectations, and are delivered on schedule. If you offer services, make sure they are performed skillfully and in accordance with the requirements of your clients.
Use search engine optimisation (SEO) techniques
Search engine optimisation (SEO) for Brands to use The process of increasing your website's ranking on search engines like Google is known as search engine optimisation (SEO). By using SEO strategies like keyword research, on-page optimisation, and building, you can improve your e-commerce store's visibility online.
Encourage feedback and testimonials from customers 
On your website and social media profiles, invite customers to leave reviews and testimonials. Positive reviews and endorsements can increase your online reputation and build trust with potential clients.
Collaboration with influencers and bloggers
Working with bloggers and influencers in your industry can help you build a more recognisable brand and enhance your online reputation. Find bloggers and influencers who are aligned with your brand's goals and target market, then get in touch with them to discuss collaborating on sponsored posts or product reviews. With Effective Influencer Marketing Strategies, you can Bost up your Company Sales and Revenue.
Be transparent and authentic
Honesty and transparency are necessary for building a solid online reputation. Be honest about your goods and services, and deal with any mistakes or problems openly. Customers appreciate companies that are honest and genuine, and over time, this can help establish credibility and trust.
Take Action Against False Reviews
Take prompt action to have any false or malicious reviews removed if you come across them. You can get in touch with the review platform or file a lawsuit if necessary.
How Long Does ORM For E-Commerce Stores Take To Produce Results?
Depending on a number of factors, including the severity of the reputation issue and the strategies used to address it, managing an online reputation can take some time to show results.
On the other hand, significant progress can be seen in a matter of weeks or months with steadfast work and the right approach. It is essential to remember that managing your online reputation is an ongoing process and that making consistent efforts to uphold a positive reputation online is necessary.
Key TakeAways
Online reputation management is a vital cornerstone in the bustling landscape of eCommerce, shaping brand perception and customer trust and ultimately driving sales. E-Commerce stores work to adopt efficient reputation management strategies to maintain their competitiveness in a market where customer reviews and feedback are king.