Peoplefinders.com is a data broker that provides access to public records such as phone numbers, addresses, and even criminal and marital histories. If you no longer wish to have your information shown on peoplefinderss, you can do so by submitting an online people finders opt-out form. Customer care claims that after 48 hours, your profile will be taken down from peoplefinderss.com. But how do claim people finders opt-out online process? Let's explore it!
What Are Peoplefinders Used For?
peoplefinderss gives users the ability to have access to a wide variety of personal information belonging to a specific individual. These particulars include the individual's name, contact number, email address, prior residence addresses, records of any criminal actions, presence on social media platforms, career history, educational credentials, and any other relevant information that may be available.
How Do I Opt Out Of Peoplefinders?
Numerous data broker websites are available online, and your data may be available on all websites, such as truthfinder opt out, lexisnexis.com, and more. Removing your data from all these sites is difficult, but it can be suppressed. Follow these steps to opt out of peoplefinders:
Navigate to the peoplefinders.com website
Enter the name, last name, country, and state of the person you want to search, and then click the "search" button
A new window will open; now, copy the person's URL
Now go ahead to the

peoplefinders

Opt Out form. Click on next button
Scroll down, enter the URL you copied to your Gmail account, fill in the captcha, and then click the "send request" button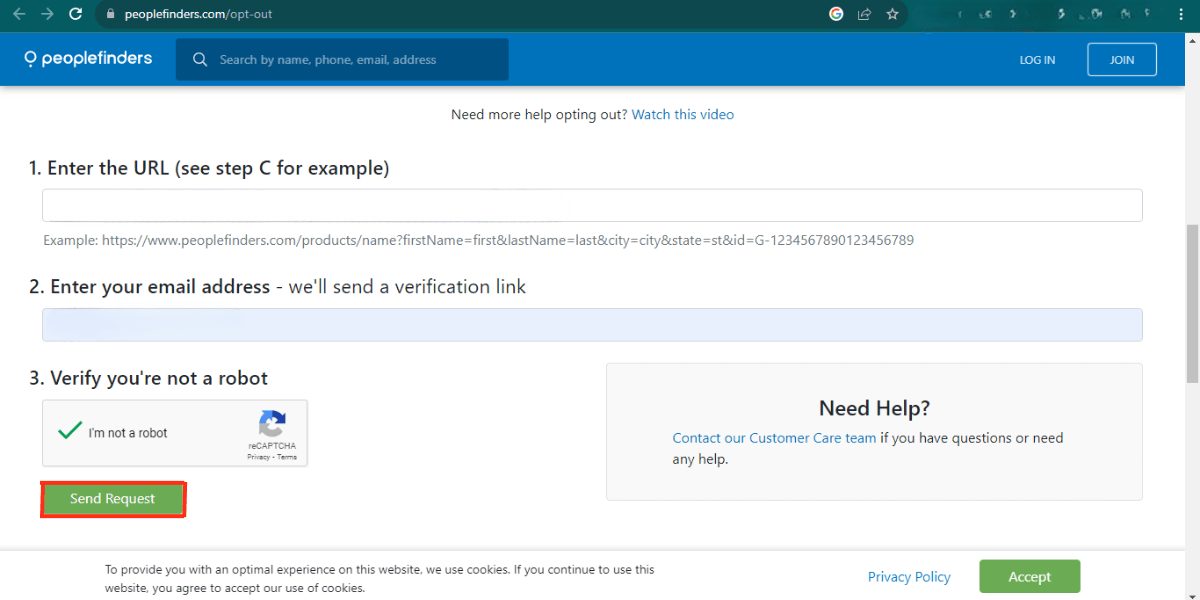 Check your Gmail account and open the notification received from people finders

Click on the URL and go ahead with the further removal process
Remember that it's a manual process, but if you're facing a bad image online, you should need to supervise it with reputable agencies. They will make sure to suppress your negative image and bring positive content to the top of Google searches. One such reputable company is SaveRepute.com, which has an excellent online image and has helped several clients to regain their lost image. Its SERP suppression service is cheap, which can be a plus point for your brand reputation. 
Where Do Peoplefinders Find Your Information?
peoplefinderss is only one of the numerous websites that compile and supply data about persons from freely available sources. peoplefinderss, and services like them, often get their data from: 
Public records: This includes birth certificates, death certificates, marriage licenses, and divorce decrees are all examples of public documents. Property data, criminal files, and court records are consulted as well. 
White Pages Listings: The standard format for phone directories that includes private addresses and phone numbers.
Social Media profiles: Information may be gleaned from a user's social media profile if that profile is made public in accordance with the user's privacy settings and the terms of service for that platform.
Third-party data brokers: Independent Data Brokers are businesses that focus on the collection, analysis, and resale of individual customer records. They aggregate information from several sources, including questionnaires, purchasing records, etc.
Business directories often offer company information and contact details for company owners and managers.
News Article: If a person has been mentioned in the news, it may be possible to track down the relevant article and add that individual's details to the database.
What is the Peoplefinders phone number to delete public records?
If you want to remove your information from the Peoplefinders database, you can access their phone number through customer services. You can call (800) 718-8997 from Monday to Friday, and the specific time is 7:AM to 6:00 pm PST. On weekends you can call between 7:00 am to 3:30 pm PST. Ensure that while contacting them, you should keep the person's full name, current and past addresses, DOB, and other details needed to have at hand. This is a verbal people finders opt-out process. 
Is Peoplefinders A Legitimate Website?
Peoplefinders is a legit website. It has provided its services for almost two decades, and its background is checked and verified. Undoubtedly, it has a vast customer base, which ensures its trust in its customers. It's been successful in gaining an A + rating and awards. This website contains a user-friendly interface which is a plus point for its success. You can register yourself first and then log in to the Peoplefinders website. 
Is peoplefinderss anonymous?
Anyone in the United States may be looked up anonymously by name, city, and state. peoplefinderss does not alert the individual that a search has been conducted on them.
Final Thoughts
Removing your personal information from online directories is essential. It helps you secure your digital identity and gain more success without any threat. Above, I mentioned how you can opt out of people finders step-by-step manually and take reputable website services at a cheap cost. So, remove your data now and secure your online presence.
If you want to Hire Reputation Management Company, Contact us Now.