Reputation management is very crucial for individual or business success. But sometimes, it's become difficult to monitor your online presence manually. You miss out on most of your reputation this way. 
There are multiple software available online that will turn your business game into success. But how can you select the right reputation management tool for your business? 
In this blog post, I'll share top online reputation management tools to boost your business reputation. So, let's get started!
What Is An Online Reputation Management Tool?
Reputation management tools are software or services used to monitor or improve an individual or organization's reputation. They collect data from various resources such as social media, news outlets, and review sites and give an overview of your site. 
These tools provide real-time updates on brand mentions and analytical insights for effective online brand management, helping develop strategies to manage negative feedback and improve online reputation. Features may include Brand social media management, competitor tracking, Brand SEO enhancement, and performance reporting.
Why Should Brands Consider An Online Reputation Management Tool?
There are several reasons that brands should consider utilizing online reputation management tools. 
When a user checks your website online, it first goes to the reviews section. The more positive reviews you'll have, the more potential customers you'll get. Because it builds trust and credibility among users, and they're more likely to purchase from you. 
Google prioritizes businesses that provide a quality customer experience for higher rankings in search results. A strong presence on business listing sites signals to Google that your brand values customer satisfaction, boosting your ranking. Since only 5% of users venture beyond Google's first page, securing a spot is crucial for visibility.
People heavily rely on positive reviews before making a purchase decision. Because it makes your business position higher than others. But on the other hand, one negative review can alter your business prospect. 
Attracting potential clients
A solid online reputation provides social proof encouraging potential customers to trust your services or products. Even a single negative review can deter new clients, posing a significant risk for growing businesses. Therefore, social media monitoring is an essential task that should be considered.
Best Tools For Online Reputation Management 
If you want to monitor your online reputation, you can consider any of the tools below for your business or brand monitoring.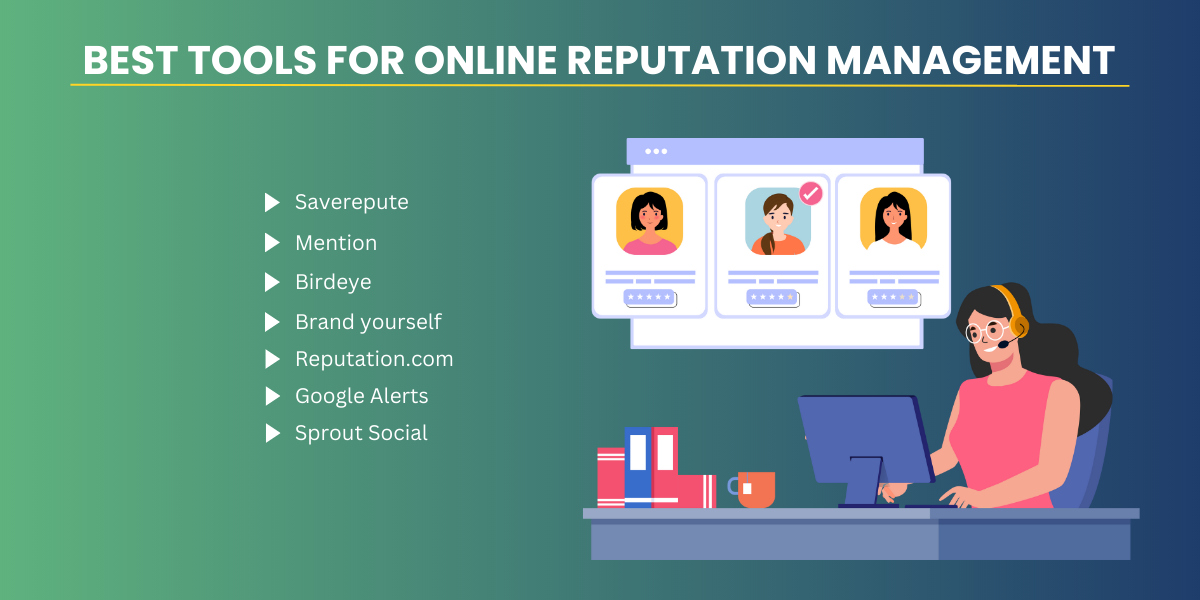 SaveRepute.com is an advanced online reputation management tool designed to help businesses monitor, protect, and enhance their digital reputation. Its real-time monitoring and analytics allow users to understand public sentiment about their brand and respond appropriately.
It's a comprehensive media monitoring tool. It keeps track of brand mentions across various channels, including social media, blogs, and news websites. With Mention, businesses can engage with their audience, monitor competitors, and manage social media campaigns effectively.
BirdEye is a platform designed to drive customer satisfaction and foster positive feedback. It offers tools for review monitoring, surveying, and managing customer interactions across multiple channels. BirdEye's Natural Language Processing (NLP) technology provides insights into customer sentiment, helping businesses enhance customer service.
BrandYourself helps individuals and businesses improve their online presence and reputation. The tool provides features for removing negative Google results, improving search engine rankings, and protecting personal data online. It's particularly useful for professionals who want to build a positive personal brand.
Reputation.com provides services that enable businesses to manage their online reputation effectively. This includes review management, business listings, social media management, and customer surveys. Their analytics tool offers detailed insights into customer sentiment and competitor activities.
Google Alerts is a straightforward, free tool that permits you to monitor the web for interesting new content about your brand. You can set up alerts for your brand name and receive notifications whenever it's mentioned online. It's a basic but helpful tool for monitoring your online presence.
Sprout Social is a social media management tool that allows businesses to find, form, and deepen real connections with the people who love their brand. It offers a single platform for scheduling posts, analyzing performance, and managing all social media interactions. It also has features for team collaboration and customer relationship management (CRM).
You might want to read: A Complete Guide on Social Media Reputation Management
How To Select The Best Reputation Management Tool?
When choosing a reputation management platform for your business, consider the following:
Consolidation of Reviews:

The tool should gather all your online reviews in one place for efficient management.

Brand Highlighting:

It should effectively evaluate and showcase your brand's strengths and weaknesses.

Organized Review Management:

The tool should categorize reviews based on the required action and identify key platforms that drive visibility.

Competitor Analysis:

Opt for a tool providing real-time updates on competitors' ratings for informed comparison.

Sentiment Analysis:

The tool should gauge the emotions behind customer reviews to understand their perspective better.

Quick Responses:

It should enable faster response times to reviews and ideally offer pre-drafted response templates.

Review Translation:

The tool should translate reviews into foreign languages and allow you to respond in the same language.

Detailed Reporting:

It should provide thorough performance insights into your products and services over time.
How Much Does Reputation Management Software Cost?
The cost of reputation management services is influenced by several factors, such as business size, the number of locations, the specific services used, and the chosen agency. The range could be between $500 and $10,000 per month, with possible initial and recurring monthly charges. If charged per location, fees can range from $50 to $1000.
Conclusion
Online reputation management tools are best for business growth and success. These tools are very helpful for businesses to understand each negative or positive aspect of business reputation ups and downs. Check out the list of 7 best online tools and make a wise decision to select the best tool for your business. 
You can utilize Saverepute services to boost your online reputation.